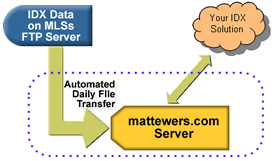 Daily Updates
Most MLS's require the listings shown to be updated at least weekly. But our solution downloads updated IDX data daily, after your MLS updates the data files.

Optimizing Data
Each time a daily update occurs, we also optimize the 'searchable database' to give your IDX Searches the best performance possible.
Listings Photos
Our IDX solution will either link to the photos provided by your MLS, or download the photographs to our server.
In many cases, multiple photos are available.
The IDX data file
Our automated FTP transfer system will download the IDX data files from your MLS's server. This will occur daily (as available).

Our Server
Our server runs a specific set of commands, customized to your MLS's IDX file formatting, and converts the file into a 'searchable database'.

Using the IDX data
Your solutions has direct access to this 'searchable database' and can be customized to take advantage of any of the data provided by your MLS.