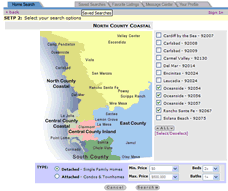 Display your MLS's listings on your website
Our IDX Broker Reciprocity solutions can retrieve and display listings of any broker or agent that participates in IDX.
We can keep your web site up to date with the latest MLS listings.

Keep buyers/clients at your website
Don't send potential buyers to another website to search for properties, and run the risk of loosing their business to a competitor.
Our IDX solution keeps your visitors and clients on your website.

Display only your contact information
Pages throughout your IDX solutions will display your contact information, and not that of the listing agent/broker.
This means that when visitor sees a property they're interested in, it's you they call, email or submit a 'request more information" form to.

Flexibility, Customization and Focus on your marketplace
We offer customizable solutions that can be completely re-worked to meet your individual needs.
One of the great benefits of our IDX solutions is their flexibility to be focused on your specific marketplaces.
If you're focused on selling luxury Hawaii homes, shouldn't your website have the same focus? Our IDX solution allows the display of categorized listings, such as "Luxury homes with ocean views", as well as featured listings.
If you'd like more information on IDX, visit our IDX Frequently Asked Questions
or contact your local mls for details specific to your location.